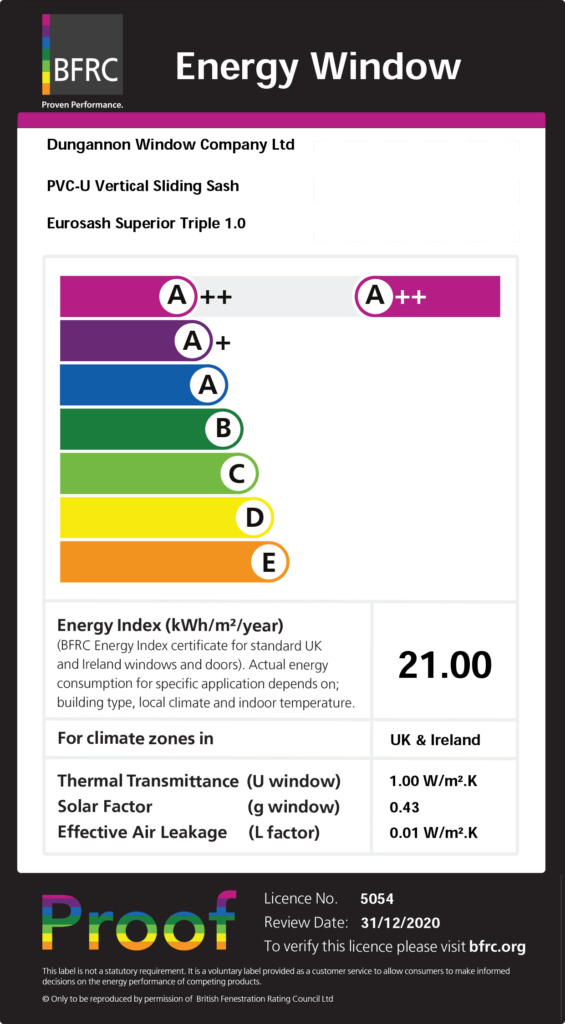 Environment
PVC is a manufactured thermoplastic product, Poly Vinyl Chloride. eurosash windows use the PVC-U variety of PVC, the 'U' being Unplasticised, which simply means that it contains none of the plasticiser that makes materials such as cling film.
Recycle & Disposal.
Recycling of PVC is a relatively straightforward process. The presence of the chlorine molecule is an aid to PVC being identified and separated from other plastics. Some window profiles are now coming with the core being made from recycled PVC, with all external faces being new 'virgin' PVC.

All of our PVC-U waste is sent for recycling and is used for various things like PVC garden furniture.
Energy efficiency
We're always pushing the boundaries at Eurosash. What others claim that can't be done, we can do. Our EUROSASH Superior is the first PVC-U sliding sash window in UK and Ireland that achieves 1.0 U-value and an A++ Window Energy Rating. Energy efficient EUROSASH windows will help to conserve heat in your home while keeping the cold and rain outside. Less draughts, reduced energy bills, reduced condensation and a lighter carbon footprint.
It makes sense, doesn't it?
Sustainability
The EU definition of sustainability is "by doing what we're doing now, we don't damage our future ability to do the same" So one of the most important questions we can ask is – Can we produce PVC indefinitely? The answer is YES. PVC is made of the essential raw materials salt & oil. The earth's salt stocks are immense and it's unimaginable that they would ever be depleted. As for oil (a fossil fuel) the ethylene obtained from oil could easily come from ethanol, which can be produced from organic material. In fact in India studies have already shown that PVC can be produced from the fermentation of sugar and ethylene from vegetable oil.
So the future's looking bright for PVC!
Advantages:
PVC-U windows reduce heat loss therefore the building requires less heating so emissions are reduced
PVC reduces the need to cut down trees
PVC does not need to be painted, so doesn't consume materials or generate waste
PVC-U windows are recycled into window profiles
PVC is a durable product
For more information visit: www.pvcaware.org/
Eurosash Triple
For those looking for the extra insulation of triple glazing, we've developed three superb solutions. Each uses a 28mm glazing gap, three panes of specialist glass and twin warm-edge spacer bars. It's never been easier to find the perfect triple-glazed sash window.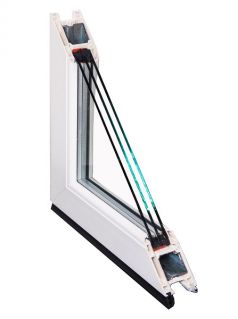 Option 1 – 1.0 U-value
2 panes Low-E glass with low iron glass externally
90% Krypton gas filled cavities
Insulated frame and cill
Additional seals
Thermal enhancements.
Option 2 – 1.2 U-value
2 panes Low-E glass with low iron glass externally
90% Krypton gas filled cavities.
Option 3 – 1.3 U-value
2 panes Low-E glass with float glass externally
Argon gas filled cavities.
The Eurosash 12-part sealing system
Traditional sash windows have always been more susceptible to air leakage, simply because they don't have the compression seals found on casement windows. As well as draughts, they can be prone to rattling in the wind. In 2009, we set out to eliminate the problem and designed a 12-part sealing system which we now fit as standard to all our sash widows. The results are impressive and reports prepared by Wintech Laboratories are available on request:
Effective air leakage (L-value) 0.01W/m2K
Reduced heat loss via air leakage
Houses fitted with Eurosash windows have passed air tightness
tests.
Jargon Buster
| | |
| --- | --- |
| U-value | A measure of how effective a material is as an insulator. The lower the better. |
| Low-E glass | The glass has a special coating which reduces the heat loss through your windows. Also called low emissivity glass. |
| Low iron glass | An extra clear glass that allows maximum light to pass through. |
| Argon gas | An inert gas with effective insulating properties used to fill the cavity between panes of glass in a double or triple-glazed unit. |
| Krypton gas | An inert gas with effective insulating properties used to fill the cavity between panes of gas in a double- or triple-glazed unit. More expensive than Argon, but performs better when used with triple glazing. |
| L-value | A measure of air leakage. The lower the better. |
| Warm-edge spacers | In a sealed unit, the panes of glass are held a fixed distance apart by spacer bars. Warm-edge spacers contain little or no metal and help to insulate the window. |
| G-value | The measure of solar gain. The higher the better. |